Entertainers
If you are in need of entertainment for your bar, private party, wedding, or corporate event, you have found the right place to look. Be sure to look over all of our listings.
If you prefer you may wish to use a party/event planner or entertainment booking agent so be sure to peruse our Services listings as well.
Check out our Entertainer listings below.
What are you looking for?
Musicians: Post Your Profile
Are you looking to join a band or start one of your own? Well, check out our Musicians section where you can browse and search through our musician profiles as well as add your own.
Attention: All Bands & Composers
Are you writing your own original music and lyrics? Are you looking to get your music out there? Would you like to be able to easily make your music available to sell, WITHOUT losing your rights to all of your work?
If so, watch this space for further public information!
>>>>>>> Spotlight <<<<<<<
Too Smooth
Contact: Jerry Augustine
Fremont CA
Tel: 510.713.8025

Looking for a great dance band for your nightclub? Too Smooth is the band you want.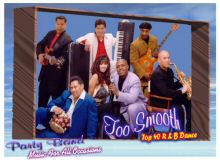 Too Smooth has been playing around the Bay Area and beyond for years. Their professionalism and onstage skills and precense has made them one of the most consistent bands around.
Too Smooth regularly plays some of the best venues around for dancing. Cache Creek Casino, Double Tree Hotel (SJ), Pier 23 (SF), and more. Too Smooth is also available for wedding receptions and corporate events.
This band will get your crowd on the dance floor playing their renditions of today's Top 40, Pop, Soul hits as well as R&B classics of yesteryear.