Eateries & Coffee Houses
Check out our Restaurant and Coffee House listings below.
What are you looking for?
Save $100s on Dining Out!

Do you dine out regularly? ...at finer establishments?
If so, then you should think about buying one of BEATCITY's Cuisine Passport Coupon Booklets. You will be able to save $100s or possibly even $1000s off your annual dining expenses.
The Gourmet Bachelor
Who is the Bachelor Gourmet?
What is the Bachelor Gourmet?
Stay Tuned and Find Out!
>>>>>>> Spotlight <<<<<<<
Do you need to satisfy your craving for sushi? Well, Sushi Totoro can take care of that for you. Sushi Totoro is one of my favorite sushi restaurants. The restaurant has a great atmosphere and is very clean and stylish. The staff is friendly and courteous.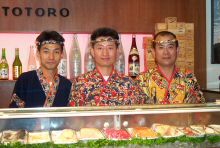 Sushi Totoro not only has an excellent sushi bar, but also serves a full variety of Japanese cuisine from tempura, bento boxes, and other grilled foods. Have nice bowl of udon soup on a cold winter day or some sashimi and an ice cold beer on a hot summer day.
Sushi Totoro offers many different varieties of sake to choose from. Go ahead and drink them hot or cold, just watch out though because good sake can be real smooth.
Sushi Totoro is open most days for lunch and dinner and offers food to-go as well as for dining in. Be sure to check out the weekday lunch specials.